PREREQUISITES FOR CREATING INTERACTIVE DATABASES OF INNOVATIVE SCIENTIFIC DEVELOPMENTS OF SCIENTIFIC INSTITUTIONS USING WEB TECHNOLOGY AS IN THE CASE OF IWP&LR NAAS
Keywords:
scientific developments, innovations, commercialization, database, presentation of developments, Internet marketing
Abstract
Relevance of the research. The Institute of Water Problems and Land Reclamation has the experience and significant potential in the field of scientific technologies, therefore the issues of finding consumers for the developed scientific and technical products and the implementation of scientific research on a contractual basis are topical. To establish the implementation of the results of scientific developments, the problems of creating the effective means and ways of information about their characteristics and feasibility of their practical use should be addressed. To solve the stated above is proposed by making an electronic interactive databases (DB) of innovations with an intuitive interface and by fulfilling a number of marketing activities.
Purpose of the research is to substantiate the preconditions for making the interactive databases of innovative developments of the Institute of Water Problems and Land Reclamation aimed at their effective promotion and commercialization when using web technologies.
Methods of the research: analytical, statistical, experimental.
Research results. The approaches to the problems of the implementation of scientific developments, theoretical and practical aspects of the transformation of scientific developments into innovation-investment products with the purpose of further commercialization on the Internet were analyzed. The considerable attention is paid to the establishment of Internet communications between science and production; advantages of using portal solutions; formation of a repository of typical applied applications; the combination of the thematic content of information and interactive services, working within a single website. As in the case of the Institute of Water Problems and Land Reclamation of NAAS, it is proposed a series of measures to commercialize innovative scientific developments by using the Internet marketing tools and creating structured web-based electronic interactive databases (DBs). In the database, besides the list of scientific developments, it is proposed to provide a detailed description of each subject area that will show what real objects and processes are going in it and what user tasks can be solved using the information from this database.
The approach to the internal optimization of the content of DBs by combining adjacent rubrics and areas of scientific developments use was developed and proposed. Some specific examples show the effectiveness of supplementing the research database with a search engine optimization unit to fulfill effective marketing measures to implement the results of scientific developments.
References
1. Samilo, A.V. (2013). Teoretychni zasady komertsializatsiyi rezulʹtativ naukovo-tekhnichnoyi diyalʹnosti derzhavnoyi sluzhby Ukrayiny z nadzvychaynykh sytuatsiy [Theoretical bases of commercialization of the results of scientific and technical activity of the civil service of Ukraine for emergency situations]. Visnyk Lʹvivsʹkoho derzhavnoho universytetu bezpeky zhyttyediyalʹnosti. 7. 285-290. Retrieved from: http://nbuv.gov.ua/UJRN/Vldubzh_2013_7_46
2. Polyakova, O.M. (2016). Problemy ta napryamy komertsializatsiyi naukovykh rozrobok ta innovatsiynoyi produktsiyi v Ukrayini [Problems and directions of commercialization of scientific developments and innovative products in Ukraine]. Visnyk ekonomiky transportu i promyslovosti, 54, 338-344.
3. Berkovsʹkyy, V.V., & Radionov, S.O. (2015). Analiz metodiv stvorennya interaktyvnykh web-dodatkiv [Analysis of methods for creating interactive web-applications]. Systemy ozbroyennya i viysʹkova tekhnika, 2(42), 61-64.
4. Prohrama informatyzatsiyi NAN Ukrayiny. Kontseptualʹni polozhennya rozvytku Prohramy informatyzatsiyi NAN Ukrayiny na 2015-2019 roky [Conceptual provisions of the development of the Information Science Program of the National Academy of Sciences of Ukraine for 2015-2019].
5. Dyedushkina, A. V. (2015). Populyaryzatsiya nauky v suchasnomu ukrayinsʹkomu internet-prostori [Popularization of science in the modern Ukrainian Internet space]. Obriyi drukarstva, 1(4), 39-47.
6. Diveyeva, N. V. (2014). Sposoby i formy vozdeystviya novykh informatsionnykh tekhnologiy na populyarizatsiyu nauki [Ways and forms of the impact of new information technologies on the popularization of science]. RELGA: nauch.-kul'turolog. zhurn., 06(279),
Retrieved from: http://www.relga.ru/Environ/WebObjects/tgu-www.woa/wa/Main?level1=main&level2=articles&textid=3888
7. Husak, O. O. (2014). Osnovni tendentsiyi povedinky audytoriyi suchasnykh internet-ZMI [The main trends of the behavior of the audience of modern Internet media]. Visnyk Knyzhkovoyi palaty. Kyiv : Kn. palata Ukrayiny. 7. 42–45.
8. Dorofeyeva, V.V. (2010). Problema kommertsializatsii innovatsionnykh razrabotok predpriyatiy Sibirskogo regiona [The problem of the commercialization of innovative developments of enterprises of the Siberian region]. Izvestiya IGEA, 5(73), 57-60.
9. Mazur, I. (2013). Komertsializatsiya naukovykh rozrobok yak faktor konkurentnoho rozvytku pidpryyemnytstva [Commercialization of scientific developments as a factor of competitive development of entrepreneurship]. Visnyk Kyivsʹkoho natsionalʹnoho universytetu imeni Tarasa Shevchenka, 148.
Retrieved from: http://nbuv.gov.ua/UJRN/VKNU_Ekon_2013_148_3
10. Zhits, G.I., & Kvashnina, M.N. (2006). Kommertsializatsiya novshestv i innovatsionnyy transfer: nekotoryye podkhody k traktovke ponyatiy [Commercialization of innovations and innovative transfer: some approaches to the interpretation of concepts]. Innovatsii. Vypusk, 11, 47-51. Retrieved from: http://cyberleninka.ru/article/n/kommertsializatsiya -novshestv-i-innovatsionnyy-transfer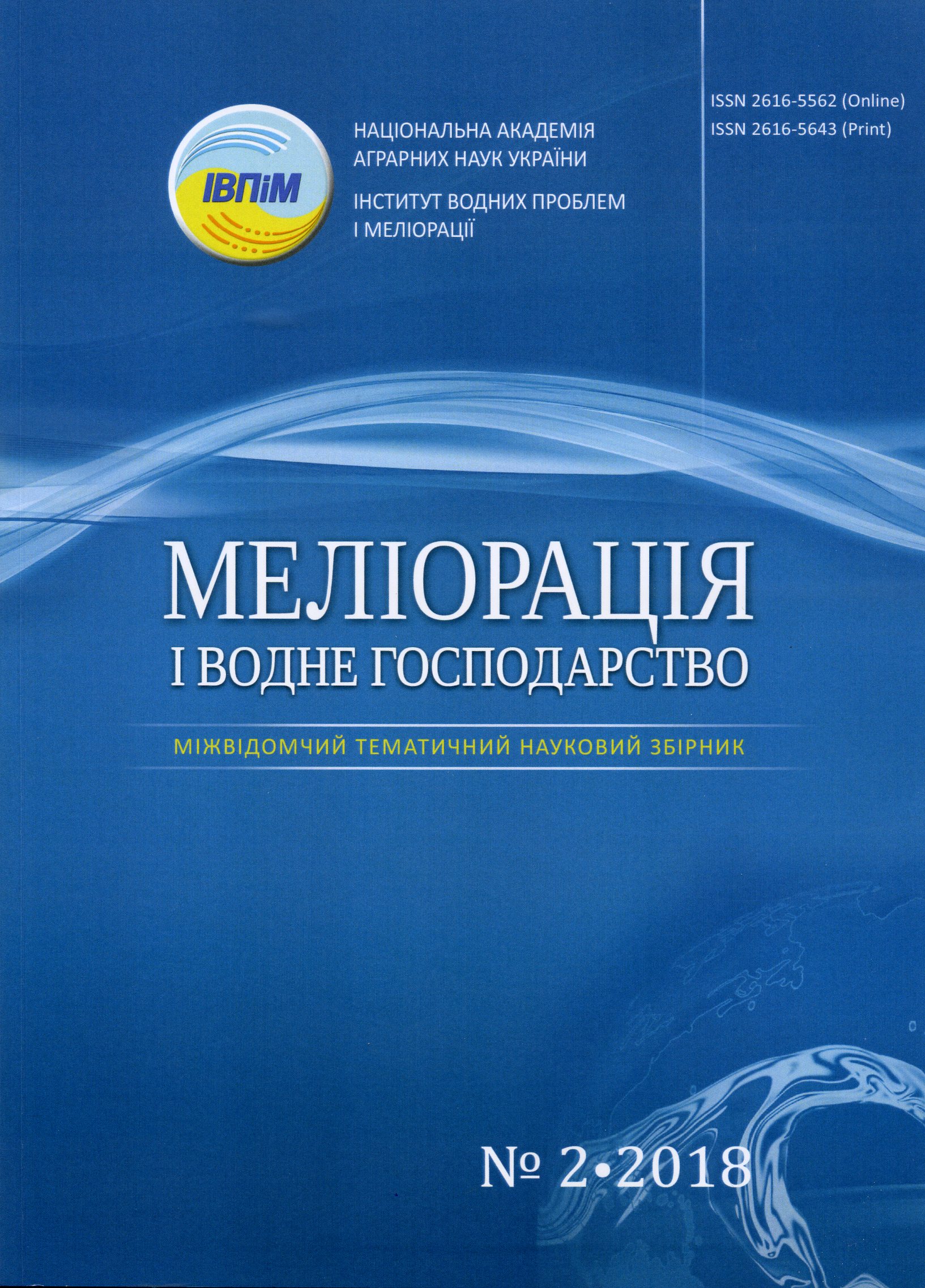 How to Cite
Knysh, V., Matiash, T., & Dyl, K. (2018). PREREQUISITES FOR CREATING INTERACTIVE DATABASES OF INNOVATIVE SCIENTIFIC DEVELOPMENTS OF SCIENTIFIC INSTITUTIONS USING WEB TECHNOLOGY AS IN THE CASE OF IWP&LR NAAS. Land Reclamation and Water Management, 108(2), 29 - 36. https://doi.org/10.31073/mivg20180108-133