PROTECTION OF POTATO CROPS AGAIST PESTS
F. S. Melnichuk

State Enterprise «Central laboratory water quality and soil» Institute of Water problems and Reclamation Academy of Agricultural Sciences Ukraine

https://orcid.org/0000-0003-2711-5185

S. A. Alekseeva

State Enterprise «Central laboratory water quality and soil» Institute of Water problems and Reclamation Academy of Agricultural Sciences Ukraine

https://orcid.org/0000-0001-8463-4614

O. V. Hordiienko

State Enterprise «Central laboratory water quality and soil» Institute of Water problems and Reclamation Academy of Agricultural Sciences Ukraine

https://orcid.org/0000-0001-9488-916X
Keywords:
potato, colorado beetle, aphid, phytophagus, phytopathogen, pesticides, insecticides, yield
Abstract
The Colorado potato beetles and aphids are especially harmful pests for potato crops in the conditions of Kyiv region. So, on the 10th day after mass rebirth of the Colorado potato beetle larvae, potato plants on untreated by insecticide plots were completely destroyed by this phytophagus. Preplanting insecticide treatment of potato tubers provided high effectiveness against the Colorado potato beetle prior to the mass rebirth and development of larvae and reduced their density of population and harmfulness. The highest efficacy (93.2-95.2%) against these pests was noted in variants with Prestige, 290 FS, Emesto Quantum 273.5 FS and Celest Top 312.5 FS.
Common scab, dry rot and Rhizoctonia solani were prevailed among the diseases of potato tubers. The greatest effectiveness against the common scab was provided by Prestige, 290 FS. Thus, the infestation of potato tubers by common scab in the variant with application of the Prestige, 290 FS was almost twice lower compared to control. Preparation Celest Top 312.5 FS provided a reduction of dry rot in almost 3 times, and Emesto Quantum 273.5 FS leads to reduction of infestation by Rhizoctonia solani in 4 times, respectively. The treatment of tubers is a reliable protection of potato plants against damage by the Colorado potato beetles and lesion diseases, that made it possible to obtain tuber yields at a level of 24.4-27.4 t per ha.
However, preplanting treatment of planting material with insecticides is not always able to provide the protection of potato seedlings against damage by Colorado beetles. The mass reproduction of these pests occurs after planting of tubers and emerging of stalks at high air temperatures. Therefore, it is necessary to provide additionally spraying of plants. Typically, the insecticides used in recommended rates have a long period of protective action, which eliminates the need for further treatments on vegetative plants. The anti-resistant effect of this treatment is associated with the use of the neonicotinoids class insecticides (eg, imidacloprid, thiamethoxam, clothianidin), that have different mechanism of action compared to pyrethroids. Under such conditions, it is important to search, investigate and introduce modern, effective insecticides into agricultural production. For this purpose the research on the preparations from separate classes of chemical compounds with various toxic properties was conducted.
The most effective against the larvae of Colorado potato beetles were insecticides Confidor, 20% SC, Calypso, 48% SC and Engeo 24.7% SC when spraying potato plantings. Duration of their protection was prolonged for two weeks after the application of insecticides. The maximum technical efficiency was reached as 99.5% (Confidor, 20% SC), 99.2% (Calypso, 48% SC) and 99.3% (Engeo 24.7% SC) on the third day after application. Other insecticides such as Mospilan, 20% SP and Actara, 24% WG (96.2-97.0%) provided somewhat lower the mortality rate of these phytophages.
The highest and prolonged effect against aphids was obtained by spraying potato plantings with the preparations Engeo 24.7% SC and Confidor, 20% SC, the efficiency of which reached 98.2% and 93.1%, that decreased the number of aphids in almost 60 times, compared with the control. Spraying potato plantings with insecticides according to the recommended rates of application allows obtaining the yield of tubers at the level of 25,6-28,2 t per ha.
References
1. Gar, K.A. (1963). Metody ispytaniya toksichnosti i effektivnosti insektitsidov [Methods of testing the toxicity and effectiveness of insecticides]. M.: Izdatel'stvovo s.-kh. lit., zhurnalov i plakatov.
2. Zinchenko, O.I., Salatenko, V.N., Bilonozhko, M.A. (2001). Roslynnytstvo [Plant growing]. K.: Ahrarna osvita
3. Tribel', S.O. (2001) Metodyky vyprobuvannya i zastosuvannya pestytsydiv [Methods of testing and application of pesticides]. Kiev. [in Ukrainian].
4. Kononuchenko, V.V., Molotsʹkyy, M.YA. (Ed.) Kartoplya. [Potatoes] (2002). (Vol. 1). Bila Tserkva
5. Hurmanchuk, O.V. Bakalova, A.V. (2016). Rehulyuvannya chyselʹnosti koloradsʹkoho zhuka za vykorystannya biopreparatu Aktofit [Adjustment of the Colorado potato beetle for the use of the Biopharmaceuticals Aktofit] Orhanichne vyrobnytstvo i prodovolʹcha bezpeka: Zb. materialiv dop. uchasn. IV Mizhnar. nauk.-prakt. konf. Zhytomyr, 205–208.
6. Stankevich, S.V., Zabrodina, I.V. (2016) Monitoring pests of agricultural crops [Monitoring pests of agricultural crops.]. Kh.: FOP Brovin O.V.
7. Retman, S.V., Forest, M.P., Borzykh, O.I., Kislyh, T.M., Shevchuk, O.V., Gorbachev, N.P. et al. (2013). Reyestratsiyni vyprobuvannya funhitsydiv u silʹsʹkomu hospodarstvi [Registration tests of fungicides in agriculture]. K.: Kolobíg
8. Serhiienko V. H., Shyta O. V., & Bohdanovych S. V. (2013). Zberehty urozhai druhoho khliba. [Save the yield of second bread]. Ahronomiia sohodni. Retrieved from: http://agro-business.com.ua/agro/ahronomiia-sohodni/item/335-zberehty-urozhai-druhoho-khliba.html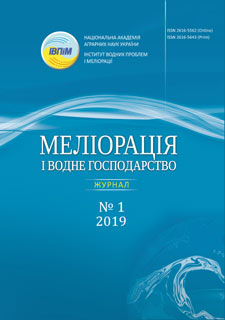 How to Cite
Melnichuk, F., Alekseeva, S., & Hordiienko, O. (2019). PROTECTION OF POTATO CROPS AGAIST PESTS. Land Reclamation and Water Management, (1), 99 - 107. https://doi.org/10.31073/mivg201901-166