South American tomato moth (Tuta absoluta) and tomato protection measures in the conditions of the Northern Steppe of Ukraine
Keywords:
tomatoes, South American tomato moth, phytophagous, pest, spraying, drip application, insecticides, effectiveness
Abstract
Cultivation of nightshade family crops (Solanaceae) requires sufficient amount of moisture and heat. In Ukraine, the most available conditions for that are in the southern regions: Kherson, Mykolaiv, Odesa, Zaporizhia and AR of Crimea, where the average yield of tomatoes is about 30 t/ha, and planting area is about 470 thousand hectares. Tomatoes are the main host plants for the South American tomato moth. Leaves, fruits and vegetative buds damaged by these pests, become a kind of «gateway» for the infection of plants by fungal pathogens. Feeding of phytophagous on the fruits of tomato leads to their falling off. Yield losses can reach 100%. This pest has high adaptability to climatic and natural conditions, capable for reproductive activities throughout the year. Among the factors contributing to the spread of these pests at the intercontinental level, the most important is the uncontrolled trading of infected fruits with plant particles, and the local spread from one field to another due to the ability of adult moths to fly. The searching of scientifically grounded methods of control of South American tomato moth, in particular, the study of the effectiveness of modern insecticides by means of spraying and drip application along with applying irrigation against this pest in the Steppe of Ukraine is very actual.
During the phytosanitary evaluation of experimental plots of tomatoes before treatment with insecticides, a high number of larvae of South American tomato moth was found, which in the check plots averaged 3,1-7,0 number/plant before the first application of insecticides, and 9,1-20,6 number/plant before the second one. Insecticide Exirel, SE (cyantraniliprole 100 g/l) with the consumption rates of 1,0 l/ha and 1,5 l/ha when providing double spraying in a small-plot experiment on open ground tomatoes provided the effectiveness against tomato moth caterpillars at 91,1% and 99,5% on the 3rd day after application, and the duration of its toxic effect exceeded 14 days. In the conditions of protected soil when applying the insecticides along with drip irrigation the insecticide Verimark CS (cyantraniliprole, 200 g/l) with the rates of 0,5 and 0,75 l/ha provided the effectiveness against tomato moth caterpillars in 3 days after application on the average by 92,4-100,0%, and the duration of its toxic effects was more than two weeks. Applying insecticides along with drip irrigation due to their local application provided high efficiency of insecticides against phytophagous larvae, having a rather long duration of toxic effect, compared with spraying.
References
1. Urbaneja A., Vercher R., Navarro V., Garcia Mari F., & Porcuna J.L. (2007). La polilla del tomate, Tuta absoluta. Phytoma España, Vol.194, 16-23.
2. Desneux N., Wajnberg E., Wyckhuys K.A.G., Burgio G., Arpaia S., Narviez-Vasquez C.A., Gonzilez-Cabrera J., Catalin Ruescas D.,Tabone E., Frandon J., Pizzol J., Poncet C., Cabello T., & Urbaneja, A. (2010). Biological invasion of European tomato crops by Tuta absoluta: ecology, history of invasion and prospects for biological control. Journal of Pest Science, 83, 197-215.
3. Speranza, S. (2009). Prime infestazioni di Tuta absoluta Su fagiolino nel Lazio. Terrae Vita, 46, 14-15.
4. Garcia, M.F., & Espul, J.C. (1982). Bioecology of the tomato moth (Scrobipalpula absoluta) in Mendoza, Argentine Republic. Revista de Investigaciones Agropecuariasrecd, 17(2), 135-146.
5. Povolny, D. (1975). On three neotropical species of the tribe Gnorimoschemini (Lepidoptera, Gelechiidae) mining Solanaceae. Acta Univ. Agric. (Brno), Vol.23, 379-393.
6. Ripa, S.R, Rojas, P.S, & Velasco, G. (1995) Releases of biological control agents of insect pests on Easter Island (Pacific Ocean). Entomophaga, 40, 427-440.
7. Clarke, J.F. (1962). New species of microlepidoptera from Japan. Entomological News, Vol.73(4), 91-102.
8. Yzhevskiy, S.S., & Novosti, Y. (2008) Poyavleniye T. absoluta v Yevrope [The emergence of T. absoluta in Europe]. Zashchita i karantin rasteniy, 5, 45 [in Russian].
9. Sinev, A.K., Izhevskiy, S.S., & Akhatov, S.Y. (2011). Tomatnaya miniruyushchaya mol' vyyavlena uzhe v Rossii [Tomato leaf-mining moth found already in Russia]. Zashchita i karantin rasteniy, 3, 40-44 [in Russian].
10. EPPO. (2010). First report of Tuta absoluta in Albania (2009/170). EPPO Reporting Services 9 (170). Retrieved from: http://www.eppo.org/PUBLICATIONS/reporting/reporting _service.htm.
11. Klechkovsʹkiy, Y.Y., & Vovkotrub, O.M. (2016). Karantinni moli - Shkidnyky paslʹonovikh kulʹtur, kontrolʹ yikh chiselʹnosti na pivdni Ukrayiny [Quarantine moths - pests of nightshade crops, control of their numbers in the south of Ukraine]. Karantyn i zakhyst roslyn, 6, 3-5 [in Ukrainian].
12. Klechkovskiy Y.E., Cherney, L.B., & Vovkotrub, A.N. Tomatnaya mol' - novaya ugroza sel'skomu khozyaystku [Tomato moth is a new threat to agriculture]. Zashchita i karantin rasteniy, 4, 36-39 [in Russian].
13. EPPO. (2012). EPPO Global Database. Tuta absoluta (GNORAB). Distribution details in Ukraine. Retrieved from: https://gd.eppo.int/taxon/GNORAB/distribution/UA
14. Chelombitko, A.F., & Bashynsʹkyy, O.V. Pivdennoamerikansʹka tomatna milʹ - nebezpechnyy karantynnyy shkidnyk tomativ. [The South American tomato moth is a dangerous quarantine pest of tomatoes]. Department of Phytosanitary Safety, Control in the Sphere of Seed Production and Nursery of the State Food and Consumer Service. Retrieved from: https://dpss.gov.ua/storage/app/sites/12/uploaded-files/karantinni-organizmi/mil-u-rozdil.pdf [in Ukrainian].
15. Likhovid, P. (2019) Pivdennoamerikansʹka tomatna minuyucha milʹ - nebezpechnyy karantynnyy shkidnyk [The South American tomato moth is a dangerous quarantine pest]. Ovoshivnytstvo, 1. Retrieved from: https://propozitsiya.com/ua/pivdennoamerykanska-tomatna-minuyucha-mil-nebezpechnyy-karantynnyy-shkidnyk [in Ukrainian].
16. Arnó, J., Oveja, M., Gabarra, R. (2018) Selection of flowering plants to enhance the biological control of Tuta absoluta using parasitoids. Biological Control, 122, 41-50.
17. Trybelya, S.O. (Ed.) (2001). Metodyky vyprobuvannya ta zastosuvannya pestytsydiv [Methods of testing and application of pesticides]. Kyiv: Svit. [in Ukrainian].
18. Shatkovskiy, A.P., Mel'nichuk, F.S., & Semenko, L.O. (2013). Osnovnyye aspekty vneseniya fungitsidov s polivnoy vodoy na sistemu kapel'nogo orosheniya plodovykh nasazhdeniy [The main aspects of the introduction of fungicides with irrigation water on drip irrigation systems for fruit plantations]. Puti povysheniya effektivnosti oroshayemogo zemledeliya, 50, 171-175. [in Russian].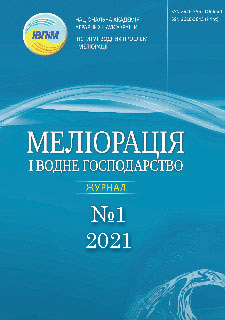 How to Cite
Melnychuk, F., Alekseeva, S., Hordiienko, O., Ostryk, I., & Antonyuk, A. (2021). South American tomato moth (Tuta absoluta) and tomato protection measures in the conditions of the Northern Steppe of Ukraine. Land Reclamation and Water Management, (1), 145 - 152. https://doi.org/10.31073/mivg202101-267