Ecological-agrochemical aspects of chemical reclamation in the connected with green manuring on sod-podzol soils of Polissya
О. Р. Chmel

Institute of Agroecology and Environmental Management of the National Academy of Agricultural Sciences of Ukraine
Keywords:
chemical melioration, turf podzolic soils, highly specialized crop rotation, siderate, loss of nutrients.
Abstract
The influence of chemical melioration of sod-podzolic soils in the short-rotation crop rotation in the zone of Chernigov Polissya is analyzed. It is established that the addition of chemical melioration with intermediate sideration makes it possible to reduce the unproductive losses of calcium oxide, nitrogen and water-soluble humus, the losses of biogenic elements with infiltration waters on different soil fertilities have been estimated.
References
1. Boyko Ye.І. Agrovyrobnychі vlastyvostі ґruntіv Chernіgіvskoyi oblastі і zasoby pіdvyschennya yih rodyuchostі. — K.: 1963. — 51 s.
2. Metodycheskye rekomendacyy po vnedrenyyu nauchno obosnovannoy systemy zemledelyya v hozyaystvah Chernygovskoy oblasty. – Chernygov, 1983. – 224 s.
3. Grynyk І.V., Bardakov A.G., Bakun Yu.O. ta іn. Naukovі osnovy agropromyslovogo vyrobnyctva Chernіgіvskoyi oblastі. – Chernіgіv: RVK «Desnyanska pravda», 2004. – 344 s.
4. Avdonyn N.S. Svoystva pochvy y urozhay. – M.: Kolos, 1965. – 486 s.
5. Shylnykov Y.A. Sochetanye yzvestkovanyya s prymenenyem organycheskyh y myneralnyh udobrenyy // Hymyya v selskom hozyaystve . – 1967. — № 9. – S.2-5.
6. Myneev V.G. Osnovnye napravlenyya yssledovanyy vlyyanyya pogodno-klymatycheskyh uslovyy na effektyvnost udobrenyy. Effektyvnost udobrenyy pry razlychnyh pogodnyh y klymatycheskyh uslovyyah. Tr. VYUA. – M.: 1985. – S.8-16.
7. Mazur G.A. Potencіyna ta efektyvna rodyuchіst gruntu // Agrohіmіya ta ґruntoznavstvo. –Grunty – ekologіya – prodovolstvo. – Chastyna ІІ. – Harkіv, 1988. – S. 94-96.
8. Syderaty v suchasnomu zemlerobstvі: naukovo-vyrobnyche vydannya (monografіya)/ [Shuvar І.A., Berdnіkov O.M., Centylo L.V. Sendeckyy V.M. ta іn.]; za red. І.A. Shuvara.- Іvano-Frankіvsk: Symfonіya forte, 2015.- 156 s.
9. Agrohіmіchnyy analіz: Pіdruchnyk/M.M. Gorodnіy, A.P. Lіsoval, A.V. Bykіn ta іn. /Za red. M.M. Gorodnogo.- .K.: Arіstey, 2005.- 468 s.
10. Arynushkyna E.N. Rukovodstvo po hymycheskomu analyzu pochv (2-e yzdanye) / E.N. Arynushkyna – M. : Yzd-vo MGU, 1970. – 487 s.
11. Dospehov B.A. Metodyka polevogo opyta / B.A. Dospehov. — M. : Agropromyzdat, 1985. – 351s.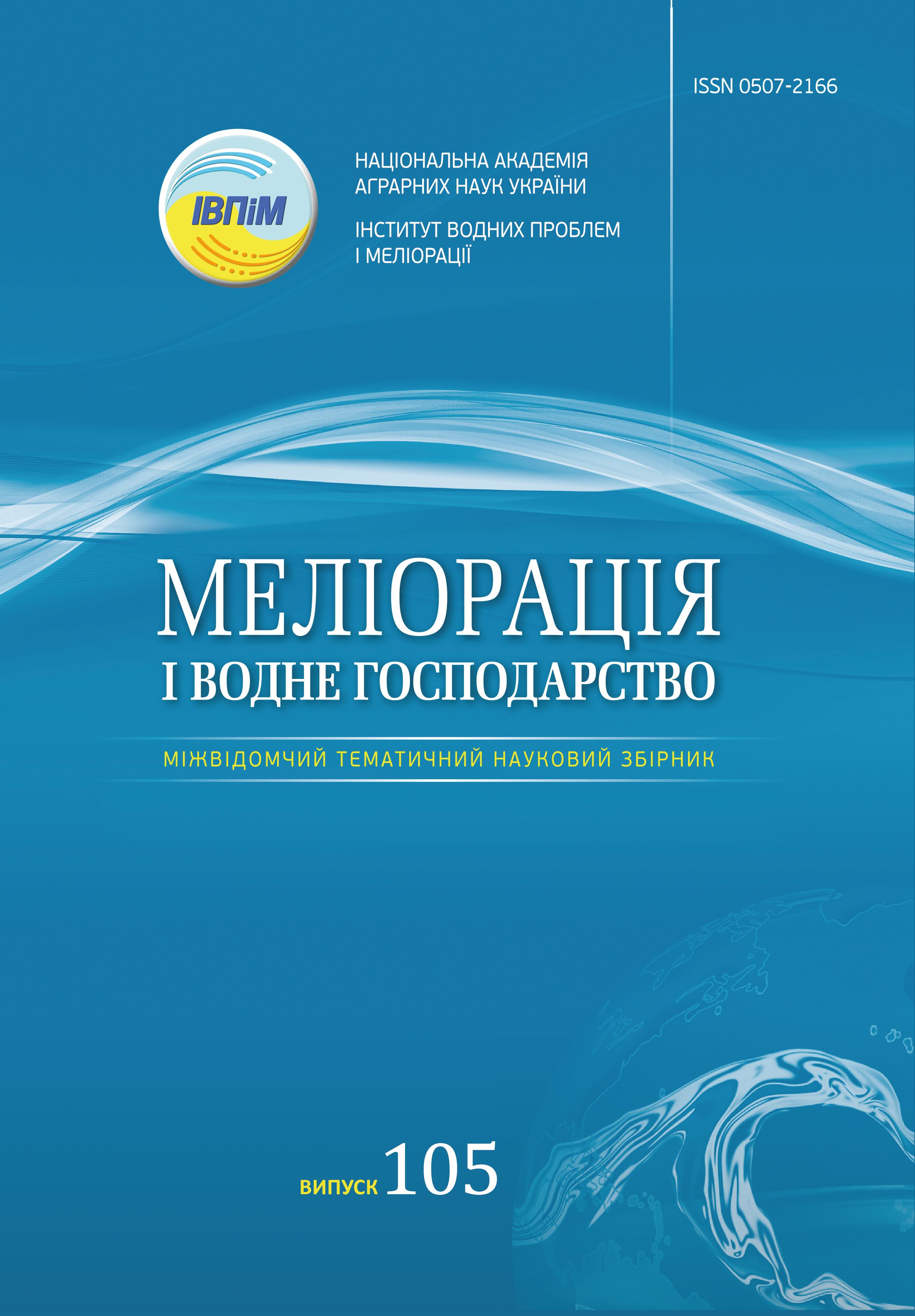 How to Cite
ChmelО. (2017). Ecological-agrochemical aspects of chemical reclamation in the connected with green manuring on sod-podzol soils of Polissya. Land Reclamation and Water Management, 105(1), 57 - 60. Retrieved from http://mivg.iwpim.com.ua/index.php/mivg/article/view/37