Ecologically balanced use of drained peat lands in the field of land reclamation
S. S. Kolomiets

Institute of water problems and land reclamation NAAS

I. M. Pyyipchuk

Institute of water problems and land reclamation NAAS
Keywords:
peat restoration, sequestration of CO2, water supply
Abstract
A model of cascade meliorative systems providing sequestration of greenhouse gas emissions, reproduction of a peat deposit, as well as increasing the biodiversity and water availability of drainage-humidifying reclamation systems under conditions of climate aridization.
References
1. Bondar O.І., Konіschuk V.V. Gelologіya: koncepcіya rozvytku, metodologіya, suchasna paradygma vyvchennya bolіt, torfovysch ta yih ekologіchna pasportyzacіya //Agroekologіchnyy zhurnal, 2011. – Specvypusk. – S. 25-30.
2. Konіschuk V.V. Іmplementacіya oselyschnoyi dyrektyvy YeS schodo Ramsarskyh vodno-bolotnyh ugіd Polіssya Ukrayiny //Materіaly mіzhnarodnoyi naukovo-praktychnoyi konferencіyi «Upravlіnnya vodnymy resursamy v umovah zmіn klіmatu», prysvyachenoyi Vsesvіtnomu dnyu vody 21 bereznya 2017 r. – K.: TOV «CP «Komprynt», 2017. – S. 92-93.
3. Rakovych V.A. Sravnytelnaya ocenka ystochnykov y stokov dyoksyda ugleroda y metana v osushennyh y natyvnyh torfyano-bolotnyh ekosystemah /Povyshenye effektyvnosty melyoracyy selskohozyaystvennyh zemel: materyaly Mezhdunarodnoy nauchno-praktycheskoy konferencyy, 20-22 sentyabrya 2005 g. – Mynsk, 2005. – S. 340-342.
4. Sіlskogospodarske vykorystannya osushuvanyh zemel gumіdnoyi zony Ukrayiny. Metodychnі rekomendacіyi. – K.: Agrarna nauka, 2000. – 75 s.

5. Racіonalne vykorystannya ґruntovyh resursіv і vіdtvorennya rodyuchostі ґruntіv: organіzacіyno-ekonomіchnі, ekologіchnі і normatyvno-pravovі aspekty: kolektyvna monografіya /Za red. S.A. Balyuka, A.V. Kuchera. – Harkіv: Smugasta typografіya, 2015. – 428 s.

6. Kopytovskyh A.V., Bohonko V.Y. Effektyvnost osushenyya bolotnyh ekosystem v Belorusskom Polese /Ekologycheskoe sostoyanye pryrodnoy sredy y nauchno-praktycheskye aspekty sovremennyh melyoratyvnyh tehnologyy: Sb. nauchnyh trudov //Pod obschey red. Yu.A. Mazhayskogo. – Vyp. 3. – Ryazan: Mescherskyy fylyal GNU VNYYGYM Rosselhozakademyy, 2008. – S. 344-348.
7. Ocіnka ekologіchnyh zbytkіv ekosystem na osnovі energetychnyh pokaznykіv /Ya.P. Dіduh, V.V. Rasevych, S.O. Gavrylov, U.M. Aloshkіna //Nauka ta іnnovacіyi, 2009. – №5. –T. 5. – S. 62-72.
8. Ekologіya vodno-bolotnyh ugіd і torfovysch (zbіrnyk naukovyh statey) //Gol. red. V.V. Konіschuk. – K.: TOV «NVP «Іnterservіs», 2014. – 300 s.

9. Torfovo-zemelnyy resurs Ukrayiny (koncepcіya kompleksnogo vykorystannya) /Za red. V.P. Sytnyka, R.S. Truskaveckogo. – Harkіv: NNC «ІGA іm. O.N. Sokolovskogo», 2010. – 71s.
10. Ekologo-ekonomycheskoe obosnovanye melyoracyy torfyano-bolotnyh kompleksov y tehnologyy yh racyonalnogo yspolzovanyya (Pod obschey red. prof. Yu.A. Mazhayskogo). – Ryazan: FG BOU VPO RGATU, 2012. – 302 s.
11. Kolomіyec S.S. Metodychnі pіdhody do ocіnky ta optymіzacіyi agrolandshaftnogo oblashtuvannya melіoratyvnyh system gumіdnoyi zony Ukrayiny /S.S. Kolomіyec, M.V. Yacyk //Melіoracіya і vodne gospodarstvo. – Vyp. 95. –K., 2008. – S. 196-202.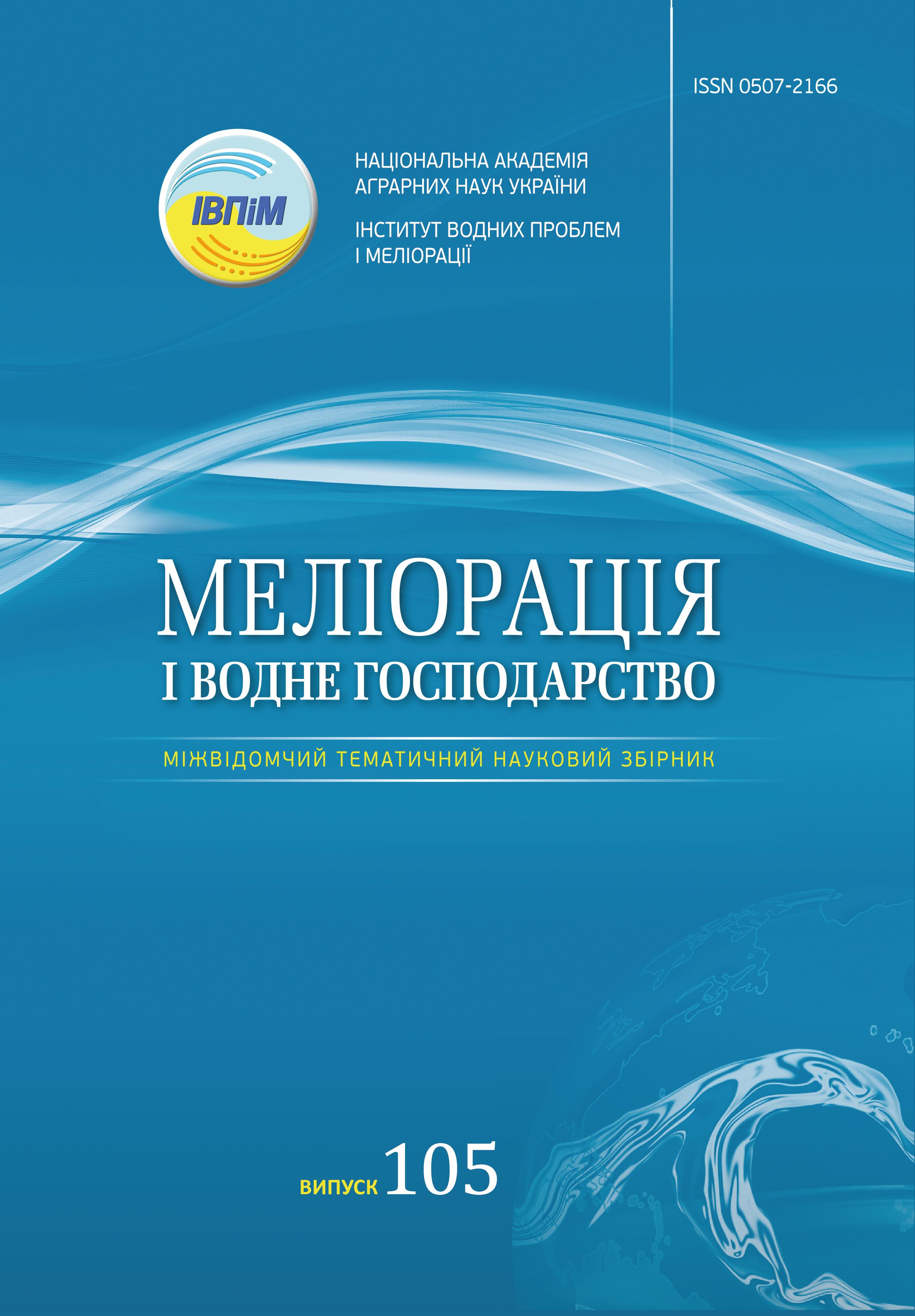 How to Cite
Kolomiets, S., & Pyyipchuk, I. (2017). Ecologically balanced use of drained peat lands in the field of land reclamation. Land Reclamation and Water Management, 105(1), 67 - 70. Retrieved from http://mivg.iwpim.com.ua/index.php/mivg/article/view/39